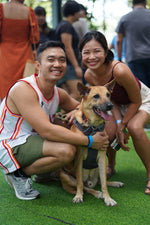 There's no better way to enjoy a Sunday than spending an amazing afternoon surrounded by good-hearted people and lots of fluffy furkids.
Furry's Kitchen is excited to be the dog food sponsor for this 20th birthday celebration of one of the longest animal welfare group. All proceeds goes to maintaining animal health and shelter before finding our Singapore Specials forever homes. 
Thank you everyone for your generous donations and making this a joyous event with your warmth and laughter. Hope to see you soon!
Photographer: Victor Poh