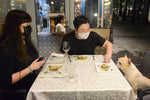 SINGAPORE - Gourmet food for dogs is not new: Pet cafes do offer fancy dishes such as grilled sirloin steak and salmon bento sets.
But you might not have heard of dog food touted to be as palatable to humans as canines.
Premium dog food manufacturer Furry's Kitchen decided to put its products to the test by teaming up with chef Justin Quek to come up with a degustation meal at a pop-up restaurant called Terrier By Justin Quek.
Food influencers were invited for the meal on March 20 without knowing beforehand that it was made with products from Furry's Kitchen.
In a video released on Dec 8 - production was delayed due to the coronavirus pandemic - the influencers praised the flavour of the food and said it tasted "comforting". One liked the velvety texture and said it reminded her of what her grandmother cooked for her when she was young.
Furry's Kitchen founder Stephen Chua said the pop-up aims to challenge the perception that food for dogs tastes unpleasant and is made with undiscernible ingredients and preservatives unfit for human consumption.
For its products, Furry's Kitchen uses human-grade ingredients such as beef, salmon and vegetables from food suppliers which supply to restaurants here. Steaming is the only cooking method used - to keep the meals healthy and nutritious.
While Furry's Kitchen sells its products online, the pop-up restaurant meal is not available.
In a specially arranged session, The Straits Times put the same menu to the test, with The New Paper food columnist Yeoh Wee Teck, his French bulldog Rufus and this writer tasting the food.
For the meal, chef Quek used four products from Furry's Kitchen - Lamb & Pumpkin, Salmon & Pasta, Chicken & Brown Rice and Pork & Broccoli - which he jazzed up with other ingredients and presented in a palatable manner.
Rufus was served two courses while the humans were served four.
Apart from the larger portions and salt used to season the dishes served to the humans, there was no difference in ingredients used nor in the methods of preparation.
The meal kicked off with a canape of lamb and cumin on toast which was served only to the humans.
Garnished with minced herbs, the canapes look like those served at restaurants and cocktail receptions.
The minced lamb was fine in texture and so well-seasoned with cumin that it did not have any meaty odours. It sat well with this writer. But Mr Yeoh prefered his lamb whole and with "more of that signature flavour in the meat".
Next was the starter of salmon sphere with dill & cucumber gelee consomme with a crispy carrot salad, which was served to both humans and dog.
The presentation was visually interesting. For the sphere, chef Quek added gelatin to strained cucumber and dill juice and placed the mixture in a mould. A piece of lace tuile made from carrot added an elegant touch to the dish.
Chef Quek also added microgreens, chopped egg, chopped dill and chives to the Salmon & Pasta from Furry's Kitchen.
The effect was pleasing for Mr Yeoh, who found the gelee refreshing and said it enhanced the fish.
But after sneaking a bite from Rufus' plate, Mr Yeoh found he preferred the unseasoned version. He says: "The blandness of the salmon worked because it makes you appreciate the subtle sweetness of the fish."
Rufus lapped up the dish with much enthusiasm after some initial hesitation.
Mr Yeoh says: "Rufus is always hungry, so he may not be the most discerning critic. He paused a little when confronted with the dill gelee because that's new. But once he got a whiff of the salmon beneath, it was history.
"I can safely say it's a 10 out of 10 rating from him."
This writer found this dish to be the best out of the entire meal. It was light-tasting and the microgreens added crispness to the minced salmon.
But the soup of chicken & brown rice veloute with fresh herbs did not impress the human judges. Rufus did not get this dish, as the veloute was already seasoned.
For this dish, chef Quek personally served the veloute at the table, pooling it around the plated chicken and brown rice quenelles.
The dish was not a hit with Mr Yeoh.
He says: "It felt almost homemade, which would not be the experience I'm looking for if I'm in a celebrity chef restaurant."
The veloute was flavoursome, but the quenelles did taste homely and similar to what this writer usually cooks for her dog.
The main course of oven-baked minced pork with herbs & vegetable mille-feuille, balsamic & yellow capsicum coulis was a hit with both Mr Yeoh and Rufus. Oven-baked minced pork with herbs & vegetable mille-feuille, balsamic & yellow capsicum coulis. ST PHOTO: SHINTARO TAY
Chopped garlic and rosemary were added to the Pork & Broccoli from Furry's Kitchen. Rufus finished his portion in a hurry and proceeded to eye the humans' plates.
Mr Yeoh says: "This was my favourite of the lot because it was packed with flavours, almost as if the chef was making up for not adding seasoning to the dog version."
This writer differs in opinion. While the minced meat was cleverly disguised under layered pan-fried zucchini, the presentation did not mask the overwhelming natural meaty odour of the pork.
Chef Quek, who owns the fine-dining Chinoiserie and more casual JustIN at Marina Bay Sands, was sceptical when first approached to create the meal using the products from Furry's Kitchen.
But upon tasting the products, he found them to be made from natural ingredients.
He says: "It is the packaging that poses a psychological barrier to people seeing dog food as human-grade.
"As a chef, I took it as a challenge to make the minced food look pretty."
Mr Yeoh who feeds Rufus a diet of homecooked food such as minced pork and a variety of fruit and vegetables as advised by a vet, says he is not likely to buy Furry's Kitchen products unless it is more economical.
As for this writer - whose dog also eats homecooked food, Furry's Kitchen could be a viable alternative for dog owners with time or energy to cook for their dogs.
The idea of serving dog food to humans is gimmicky, but it does help to remind people that dogs do not always have to be fed a processed diet of kibble or canned food.
After all, furkids - who have a much shorter lifespan than humans - do deserve a diet of healthy and nutritious human-grade food.
STFood Online Editor: Hedy Khoo
Published Dec 20, 2020